Where sensual erotic romance is always waiting for you.
I am Dana Littlejohn, author of sensual erotic romance. You will find that I write contemporary romances with just a hint of another genre to take it away from the ordinary. My stories will touch your heart and your soul and make your body feel like it's being touched, too.
Imagination will take you places your money can not. I invite you into my world with open arms to see my imagination run wild...
Come along for the ride as I go on an imaginary trip into my world. You'll enjoy every minute of this wild ride.
New Release!
Could attending a Halloween party for work be the worst thing and the best thing that could happen to you at the same time?
Blurb:
The newspaper that Daniyah Tyler worked for had been brought out by a big conglomerate. The entire staff had been replaced except for her and one other person. When her new boss showed up in her office, she was sure it was her turn to be fired. Instead, he sent her on assignment to Chicago to cover a Halloween party for the paper. Daniyah knew that refusal could jeopardize her job but would accepting jeopardize her very life?
New Release!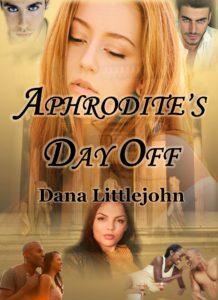 Aphrodite longed for time away from Olympus. In hopes of getting Zeus to offer her a reprieve, Aphrodite suggested that her sons, Eros and Himeros, take her place. How will Eros and Himeros prove to Zeus that their power over love and desire will be sufficient so their mother can have her much needed day off?
New Release!
Ivy's Hot Shots
Ivy York's mother wants her married with children as soon as possible. To Ivy's horror her mother continues to fix her up with or offer her in some way to incompatible men. It had been months since the last disastrous date so Ivy thought she was in the clear when she arrived at her parent's house for lunch only to find Tech Sergeant Steven Jones waiting for her. As she got to know the young airman, Ivy began to think her mother may have finally got it right...until she met Jonathan Hayes. The handsome self-made man was not afraid of a little competition or fighting for what he wanted.
When given the chance to put the sergeant up against the entrepreneur to see who was best for her in the long run, who would Ivy choose?
---

Title: The High Road Club
Genre: military erotic romance
Theme/place: bus (greyhound, Megabus, Miller type)
Blurb:
Ronika O'Neal took the long bus ride back from visiting her sister in Tulsa. During a nap the scent spicy cloves and cinnamon made her feel warm and cozy. She turned to get comfortable and realized she was on someone shoulder. Lieutenant Delaney didn't complain when the beautiful woman he sat beside cozied up to him as she slept. In fact in welcomed it and hoped for more.

Warning

These Books have explicit passages, you must be 18 or older to read or buy them.

Social Networks

Shopping Cart

Your Shopping Cart

Your cart is empty

Join Today

RWA

Cultural, Interracial, and Multicultural Special Interest Chapter

http://www.cimrwa.org/

Coffee Time Romance

DTD Writer Retreat

Website Support Provided by