Wolf Blood Moon
Could following up on an old folklore on Valentine's Day be the worse thing and the best thing to happen to you?
Blurb:
The newspaper that Daniyah Tyler worked at had been bought by a big conglomerate and everyone on staff has been replaced except for her. When the new boss comes into her office to send her on assignment she just knew it was her turn to be canned. Although doing fluff pieces was not what she usually did she got the impression that he was not asking. Covering a harmless Valentine's Day party seemed easy enough, but there was something about the new boss she didn't trust. Daniyah knew that by refusing the assignment she could lose her job, but would accepting it jeopardize her life?
The Last McPhee
Patrick McPhee is the last of his clan. He has lived a long time waiting to meet his rival and settle an old score. Although Patrick had long since given up on a way to break the curse put on him to save his life. After meeting Charlene he began to have hope.
Could having her be a way to achieving both revenge and happiness?
Blaze's Black Widow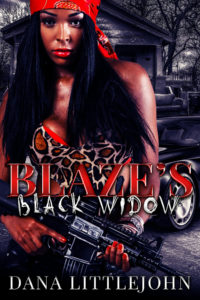 It had been almost a year since she had seen Blaze. As soon as Angel saw the "come home" text she knew what he wanted. She was determined this would be the last time.
She would go home this last time, pay back the favor and finally move on with her life.
Aphrodite's Day Off
Aphrodite longed for time away from Mount Olympus. In hopes of getting Zeus to offer her a reprieve, Aphrodite suggested that her sons, Eros and Himeros, take her place in matters of love.
How will Eros and Himeros prove to Zeus that their power over love and desire will be sufficient so their mother can have her much needed day off?
Ivy's Hot Shots
Ivy's Hot ShotsIvy York's mother wants her married with children as soon as possible. To Ivy's horror her mother continues to fix her up with or offer her in some way to incompatible men. It had been months since the last disastrous date so Ivy thought she was in the clear when she arrived at her parent's house for lunch only to find Tech Sergeant Steven Jones waiting for her. As she got to know the young airman, Ivy began to think her mother may have finally got it right...until she met Jonathan Hayes. The handsome self-made man was not afraid of a little competition or fighting for what he wanted.
When given the chance to put the sergeant up against the entrepreneur to see who was best for her in the long run, who would Ivy choose?
Seducing Mr. Jefferson
Once upon a time Daniel Jefferson couldn't keep his hands off his wife Kamiah, but lately that was not the case. Had he become accustomed to her and no longer found her exciting after only five years of marriage?
She hoped not, but luckily for Kamiah she had friends that had a few ideas up their sleeves in case he did.
Daughter's of the Cosmos


Takasa, goddess of the sun, left her mountain home consumed with bitterness caused by her long endured loneliness. The elders in her tribe fed her a potion to put her to sleep for a thousand years to wait for the one who would be able to save them from her wrath.
Luneria, goddess of the moon, saw that Rubani, the God of War, was in need of advice. She offered her assistance and watched out for him during his latest campaign with the people. Rubani wanted her for his wife, Luneria was unsure, She had only spoken a few times and she did not want to leave the sky to be among the people. Was there a way for the goddesses to have happiness without losing the position?
Warning

These Books have explicit passages, you must be 18 or older to read or buy them.

Link To Dana

Social Networks

Your Shopping Cart

Your cart is empty

Join Today

RWA

Cultural, Interracial, and Multicultural Special Interest Chapter

http://www.cimrwa.org/

Website Support Provided by

#PMInc #CoverHuntEggHop