New Release!
Aphrodite longed for time away from Olympus. In hopes of getting Zeus to offer her a reprieve, Aphrodite suggested that her sons, Eros and Himeros, take her place. How will Eros and Himeros prove to Zeus that their power over love and desire will be sufficient so their mother can have her much needed day off?
Ivy's Hot Shots
Ivy York's mother wants her married with children as soon as possible. To Ivy's horror her mother continues to fix her up with or offer her in some way to incompatible men. It had been months since the last disastrous date so Ivy thought she was in the clear when she arrived at her parent's house for lunch only to find Tech Sergeant Steven Jones waiting for her. As she got to know the young airman, Ivy began to think her mother may have finally got it right...until she met Jonathan Hayes. The handsome self-made man was not afraid of a little competition or fighting for what he wanted.
When given the chance to put the sergeant up against the entrepreneur to see who was best for her in the long run, who would Ivy choose?
Blurb:
Kameryn Gamble ran away from an awkward life. A new city offered a fresh start, a new job and a new man. Reynaud added something she never had in a relationship before…friendship, passion and peace. Things were looking up for Kameryn until an ex-lover showed up with the intention of bringing her home.
Reynaud Leduc had everything he ever wanted with Kameryn and yet something nagged at him. He hoped going 'home' would ease his weariness, but friends had lost their places and enemies had gained power. Will the final confrontation with his past destroy everything Reynaud had in his present preventing him from having a future with Kameryn?
Blurb
Cursed for a crime he did not commit, Keith Turner had given up on love. Even after making that decision, he still spent every night being tortured mentally and physically. His twin brother Kevin was confident that they could find a way to break the curse, but it wasn't until Keith met Marcella that he began to take Kevin's ideas to heart.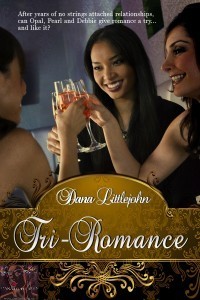 Blurb:
Twin sisters, Opal and Pearl Jefferson, and their best friend Debra Flores were living blissfully by their no strings attached rule, enjoying the many comforts of a good life. All was well in their world until Frank, Jake, Doug and Rakim entered into it. When one of the girls abandons their well practiced rule and falls in love, does her decision throw a monkey wrench into the lives of everyone else around her? Or does it open up the possibility for love to capture them all?
Print Buy Printed Edition of Tri-Romance by Dana Littlejohn
Create Space | Amazon
Read Excerpt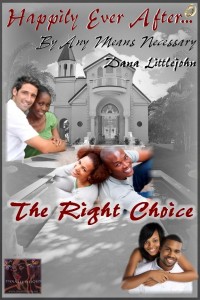 Blurb
Andrea Cooper, a stay at home mom, was out of a job when her sons went off to college. She turned to her husband Christian for companionship, but he had his hands full with an expanding company.
As Andrea searched for a new life, she ran into her first love, Raymond Reyes. While Christian spends more time away from home, Andrea has time to renew her friendship with Ray and shortly begins to wonder if she made the right choice marrying Christian after all.
Blurb
Sonja Winters enjoyed the good life with a great job and being married to Kyle, the man of her dreams. As she prepared to celebrate their seven-year anniversary she came across a secret her husband had kept from her. Would it alter the course of their marriage forever? Yes! Would it end their marriage? Or open a brand new chapter?
Available in Print and eBook
Warning

These Books have explicit passages, you must be 18 or older to read or buy them.

Social Networks

Your Shopping Cart

Your cart is empty

Join Today

RWA

Cultural, Interracial, and Multicultural Special Interest Chapter

http://www.cimrwa.org/

Coffee Time Romance

DTD Writer Retreat

Website Support Provided by