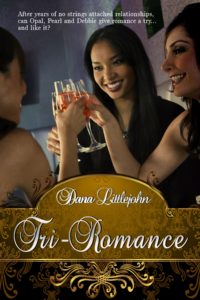 Check Out The Review On Facebook
Tri-Romance is a great romance novel. It's the story of 3 beautiful young ladies, two who happen to be twins and their best friend. They were living the good life single and no strings attached till one day that all changed. Once you start reading this book you will be at the edge of your seat till the end. Turning page after page not knowing whether to laugh, cry, or be upset with the characters.
The author added just enough suspense to keep you longing for more. Just when you think you know what is about to happen next she adds a slight twist in the story that will leave you breathless and wanting more till you find yourself at the end of the book.
Tri-romance also has a very tasteful variety of sexuality, nationality, and culture added in it which makes the book even more enjoyable to read. I think there is at least one thing or one person in the book that a reader can relate to.
All in all this was a 5 star book in my opinion. I look forward to reading more books by the author.